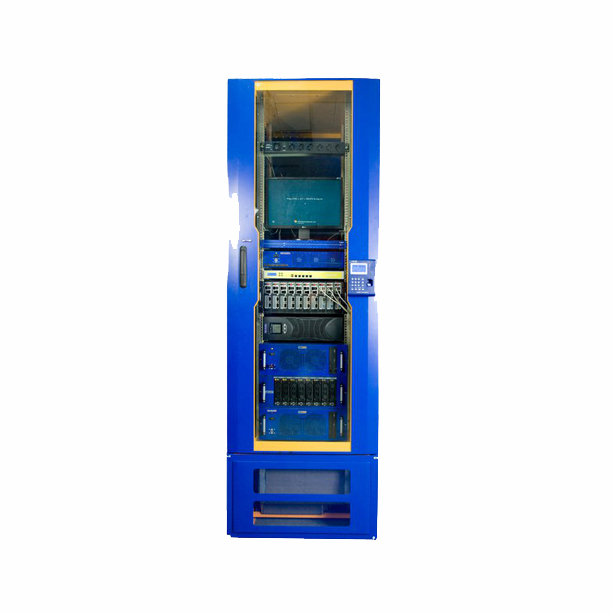 Keeping your valuable IT assets running at the right temperature and with the adequate power supply, is job No. 1 for administrators. Without efficient cooling, it would be impossible to take full advantage of today's advanced hardware components, which unfortunately generate plenty of heat. Couple that with the desire many enterprises have to also maintain as much component density as possible, and you get the idea: Cooling is absolutely critical.
ITSYN approach with G-Racks has been to bring the cooling right to the rack and are ideal for conditions where in-room cooling may need to be supplemented.
ITSYN G-Rack is a standard server rack enclosure with an added twist: a rackmount AC unit built right into the rack. The cooling power ranges in size from 12,000 to 17,500 BTU and feature a unique airflow system that ensure optimal cooling.
ITSYN cooling units are designed to precisely control important environment variables such as temperature, humidity, and dust.
ITSYN G-Racks include an optional access control system: the electric lock is controlled using your unique fingerprint or using an RF-ID proximity card. The access control unit can report you anywhere in the world on the door status, usage, temperature and much more using TCP-IP connectivity.
G-Racks Characteristics:
Flexibility
•Operates as an autonomous server rack, independent from environmental conditions.
•Allows highest packing density for high performance servers, resulting in up to 70% floor space saving in the data center.
•Reduces room and building floorspace requirements.
•Provides user-friendly operation and service-optimized design.
•Operates quietly, ideal for applications where noise containment is required.
Higher Availability
•Channels air flow in the rack to optimize efficiency.
•Separates heat exchanger and servers for highest possible leakage safety.
•Provides redundant fans with temperature-dependent speed control.
•Provides integrated alarm management.
•Allows optional remote monitoring for temperature and operating status/alarms.
Supports 10 Mbit Ethernet connection and GSM. Provides Web interface using HTTP, user.
authentication, e-mail and paging notification, SNMP support including Nform and graphing.
Lowest Total Cost of Ownership
•Improves cooling system energy efficiency up to 30%.
•Protects initial investment through system scalability.
•Optimizes energy efficiency with variable speed fans optimize.
Ideally Suited For
•Outposted equipment location: branch offices, temporary installations, etc.
•High-density equipment requiring precise cooling & protection in any environment.
•Communication enclosures.
•Data centers.
•Server farms.