CAM-DM33
Mini Dome Camera
Camera
• 1/4″ Sony color CCD
• 3.6 mm Board Lens
• 0.2 lux Minimum Illumination at F2.0
• Maximum resolution 330TV lines
• Anti-aliasing and IR-cut optical filter
Video
• Built-in anti-aliasing and IR-cut optical filter
• Auto White Balance (2500K~9500K)
• Auto Gain Control
• Auto Electronic Shutter Time (NTSC:1/60s~1/100,000s, PAL:1/50s~1/110,000s)
• Embedded Digital Signal Processor (DSP) chip-set for image control
Hardware
• Furnished with DC power cable and video cable
• Video Output: 1 Vp-p Composite Video / 75 Ohms

The PLANET CAM-DM33 is redefining what you should expect for an ultra-discreet fixed mini dome camera. Using Sony CCD image sensor, the CAM-DM33 performs excellent color resolution of 330TV lines. In addition, its embedded Digital Signal Processor (DSP) provides the industry's more comprehensive set of performance enhancing features including Auto Electronic Shutter (AES), Auto Gain Control (AGC), Auto White Balance (AWB), anti-aliasing and IR-Cut optical filter. The versatile camera is an excellent choice for indoor surveillance applications such as retail stores, schools, airports, banks and hotels.
Easy installation and Flexible management The CAM-DM33 offers the cost-effective solution for the most of users who need to build a simple surveillance environment with affordable cost. The CAM-DM33 mini dome camera is designed in small size: 73mm in diameter (Φ) and 53mm in height; therefore, it can be easily applied in indoor surveillance and blend with the environment. By co-working with PLANET Digital Video Recorders or Internet Video Server, the CAM-DM33 is helpful to create a secure system to protect your life and property.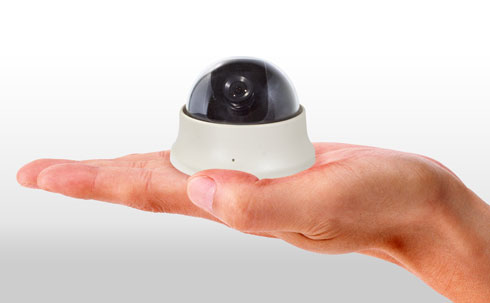 Ordering Information
CAM-DM33-NT
Mini Dome Camera (NTSC)
CAM-DM33-PA
Mini Dome Camera (PAL)
Camera
Image device
1/4 type SONY Color CCD
Lens
Board lens 3.6mm, F2.0
Angle of view H: 71 Degree, V: 52 Degree

Min Illumination
0.2 lux @ F2.0
Effective Pixels (H x V)
NTSC: 510 x 492, PAL: 500 x 582
Video
Horizontal Resolution
330 TV lines
S/N Ratio
More than 48 dB
White Balance
Automatically (2500K~9500K)
Gamma Characteristic
0.45
Video Output
1 Vp-p Composite Video / 75 Ohms
Function
Gain Control
Automatically
Auto Electronic Shutter
NTSC:1/60s~1/100,000s, PAL:1/50s~1/110,000s
Synchronous System
Internal, Negative sync
General
Power Supply
DC 12V, 120mA
Operating Temperature
-10 to 50 Degree C (14 to 122 Degree F)
Dimensions (φ x H)
73 x 53 mm